We are news editors who monitor and human-curate GLOBAL INDUSTRY NEWS
    Exclusively in the Entertainment, Telecom, Connectivity, Network Solutions, and Energy spaces.


✅ Before the quarterly earnings call tomorrow, is your CEO prepared?
✅ Is Sales armed with the latest news before the customer meeting?
✅ Is your Investor Relations' presentation researched and ready?
✅ Are your engineers current on competitor products and services?
✅ Is your company on top of regulatory changes?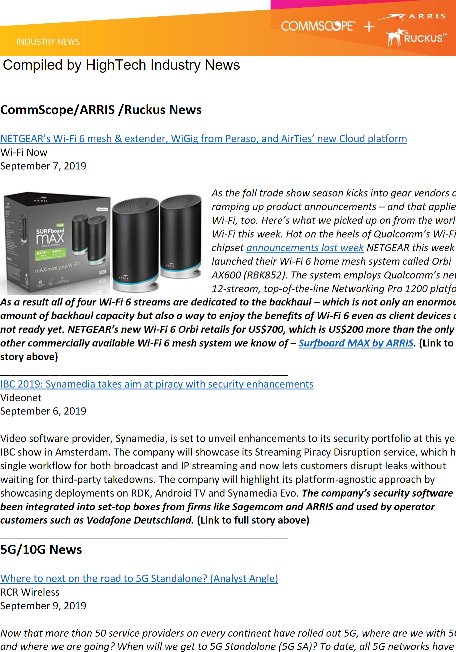 Let us help you check all the boxes with your customized, ready-to-distribute,
Executive Industry News Brief
Smartly summarized for busy enterprise executives who need at-a-glance, disruptive news,
As It Happens.

HighTech Industry News provided an internal tri-weekly newsletter that shared company coverage, as well as relevant industry articles. The distribution included the executive leadership team, sales, marketing, product management, engineering, the CTO team, and anyone else who wanted to stay in the know.
I appreciated that Barbara had a good understanding of the cable industry and could flag insightful, valuable and competitive news that was relevant to all internal stakeholders.
Kalia Farrell
Sr Manager of Global Communications - CommScope

As SVP of Global Marketing at ARRIS, HighTech Industry News (HTIN) served as the central news resource for our global communications and marketing teams. Barbara Qualmann, in particular, funneled all news coming from our agencies around the world to ensure proper coordination and timely news delivery which was invaluable to our Executive Leadership Team. HTIN was always on standby during mergers and acquisitions, earnings announcements, trade show prep, and many other highly public announcements and partnered with us to truly understand our business. I would recommend HighTech Industry News to any company, executive team, PR, or Marketing teams that need reliable, smart, media support.
Sandra Howe
SVP Of Global Marketing - ARRIS

I've known Barbara as a customer and partner for the past five years and she is sharp and understands the finer points of news writing. She has a great grasp of the technology business and has had some key roles within it. I know that HighTech Industry News was widely read. It influenced and informed a number of leading organizations in the US. I am sure she will be of great service to anyone who uses her services.
Peter White
Principal Analyst and CEO - Rethink Technology Research

I was fortunate to inherit Barbara Qualmann's HighTech Industry News (HTIN) service when ARRIS acquired Motorola Home. I soon realized that what Barbara offers is so much more than your traditional or automated clipping service. Barbara curates the most relevant and insightful industry information based on your organization's current and future business objectives. And she compiles everything in an easy-to-read executive summary. The ARRIS executive leadership team loved HTIN's reports and the actionable insights they provided. Based on their interest, we continued to evolve our business relationship. HTIN was soon supporting ARRIS customer meetings, sales outreach, investor and board presentations. HTIN is a strategic asset. They provide a uniquely powerful combination of industry insight, business intelligence, intellectual curiosity, and love for news and research.
Jeanne Russo
Sr Director of Global Communications - ARRIS